Web Site Updates
The 9055 Centenarian
November 2012 sees the centenary of Churchward Brake Unclassified Saloon 9055, to celebrate a special train is planned for 20th October.
Garter Crest Transfers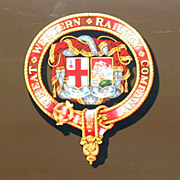 We have now taken delivery of some 1912 Great Western Garter crest Transfers plus arms and wing.
They are for sale at £100 each and have been professionally made to the highest standards a culmination of work by Bob Timmins, Mick Haynes and Butchers Printed Products.
Please email mick.haynes@atos.net with how many you require. On receipt of the correct cheque then they will be available for collection from Bewdley. Enquiries tel 07733 310 060.
Cheques made out to Great Western (SVR) Association and sent to Dave Massey, 72 Shakespeare Drive, Offmore Farm, Kidderminster DY10 3QY
Note that gold leaf is applied separately as is the small amount of chocolate brown before applying the transfer.
Current GW(SVR)A Restoration Projects
Previous GW(SVR)A Restoration Projects
Out and about 2009
Out and about 2008
Severn Valley Railway C&W Projects
Out and about 2007
Out and About - 2006
Out and About - 2005
Out and About - 2004
GW(SVR)A Website Search