Built 1932. Purchased for preservation in 1974 from Barry scrapyard. This is one of the final batch of 342 locomotives built between 1911 and 1932. These locomotives were all given the larger cabs and had a weight attached to the buffer beam to place more weight on the leading pony wheels. This was done to reduce the wear on the leading driving wheels. The idea was that they would be used in Cornwall where curves abounded but in fact 9303 spent most of its time in the London division, before moving around the Midlands and the Welsh Marches. In 1958, the weight was removed from the buffer beam to give the locomotive more route availability and at the same time, it was renumbered 7325 in which guise it spent the first ten years of its restored life. The plan is to replace the missing weight at the next overhaul so that it can once again run as 9303, a true Great Western engine.
Friends of Swindon Railway Museum web-site.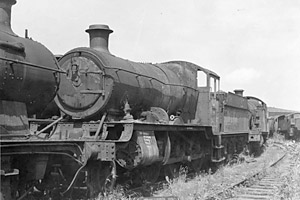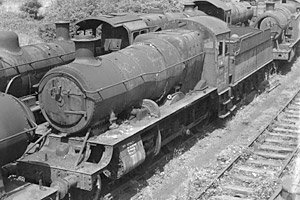 Two photos of 9303 at Barry scrapyard before purchase by the Association. PHOTOS: Colin Jenkins
Returning this unique locomotive to steam
For the Association's 50th year, 2019, we are launching a fund to return our Mogul to the Collett GWR condition of 9303, having previously run in its 1958 incarnation of 7325 when the weight at the back of the buffer beam was removed to allow operation over a wider network. The extra weight will not be a problem when running on Severn Valley Railway metals or on other heritage railways.
Click here for full details and how to help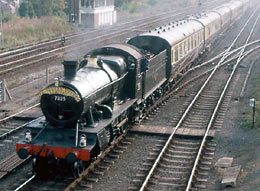 7325 with the Severn Valley Limited diner approaching Kidderminster station. October 1995. PHOTO: Dave Smith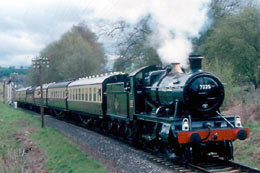 7325 heading north from Arley station. April 1993. PHOTO: Dave Smith