Coach History
Gresley designed carriage 7960, the last surviving LNER Kitchen Composite, was built at Doncaster in 1936 to diagram 187.
The coach comprises an entrance vestibule giving access to the third-class saloon, seating 18, followed by the first-class saloon, seating 12. A side corridor leading from the first-class saloon gives access to a pantry compartment, kitchen and finally an attendant's lavatory.
The interior of the third-class saloon is finished in varnished teak with polished brass metal fittings, whilst the first-class saloon has quartered fiddle back veneered panels with mahogany trim and polished chrome metal fittings. The kitchen was originally equipped with a sink, refrigerated cupboards and an electric cooker and oven. Two Stones dynamos rated at 7·2Kw where mounted on the underframe to provide power, belt driven from one of the axles and supplemented by batteries. The carriage rode on heavy-type compound bolster bogies. The body is 9ft 3in wide and length over buffers 63ft 6 in.
The coach spent all its passenger working life on the former Great North of Scotland route between Aberdeen, departure 7 am and Inverness return 12·30 pm.
In 1957 British Rail initiated a five-year programme, comprising 430 new catering vehicles, with the aim of replacing all of those of pre 1939 construction. Some all-electric cars were converted to propane equipment from 1958 to extend their working lives, but this did not include 7960, which was withdrawn in 1961.
Next page: Departmental Use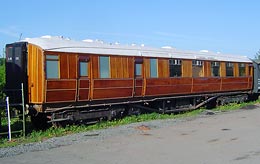 7960 standing alongside the car park at Bewdley Station. May 2006.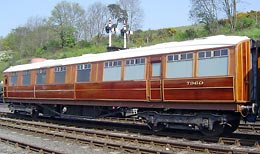 The corridor side, Bewdley, May 2006.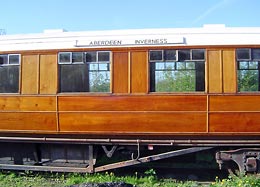 The last time 7960 departed for Inverness was in 1960.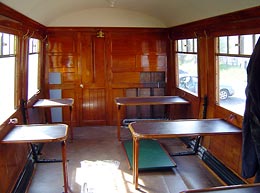 The third class saloon after the tables were installed.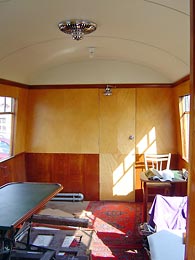 The first class saloon showing the quartered fiddle-back veneer panels.