Departmental Use
7960 escaped the cutter's torch to be converted into a Mobile Mess Coach for track workers. The alterations were quite extensive.
The two saloons were gutted and the entrance doors between the vestibule and third Saloon and third and first saloons were removed and the entrances blocked over. A side corridor running the length of the third saloon was installed giving access to three newly built compartments. The sliding compartment doors were of Thompson design, these were subsequently sent to the NYMR. Each compartment had two double bunks.
A solid fuel stove/boiler was fitted in the first saloon together with a water tank fitted below the ceiling which fed a somewhat crude central heating system using 2in pipe work.
The pantry was stripped of cupboards and the external door sealed with steel panels. The interior sliding door entrance was altered allowing installation of double bunks either side of this entrance.
The kitchen retained it refrigerated cupboards and sink. The electric cooker and ovens were replaced by a gas range and two 60's style kitchen cupboards installed.
The attendant's lavatory, together with its door and corridor wall were removed to give an open area in which three large rectangular sinks were installed. The sinks carried casting dates of 1961.
Externally the gangway connections were removed as were the battery boxes and their supporting steelwork the dynamos and regulator box. Four pairs of propane gas cabinets were installed and also an external hand brake was fitted. All the windows were covered by thick wire mesh held in metal frames.
The coach was finally withdrawn in 1980 and offered for sale by tender whilst lying at Perth. Following examination by a number of SVR members it was bought by Johnny Giles and arrived by rail on the SVR in November of the same year.
Next page: Restoration Part 1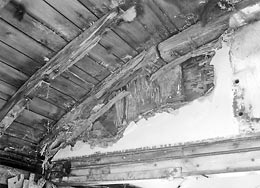 A fine sample of wet and dry rot.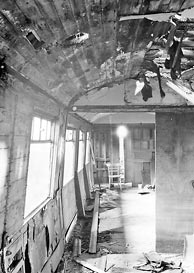 Looking from the first to the third saloon after removal of corridor wall and compartments.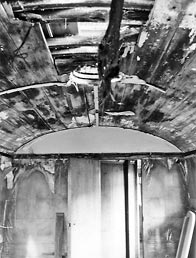 Not much left of the first class ceiling or roof!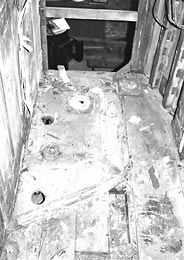 The attendant's lavatory compartment - aim for the hole!!